Barbara Cole's Shape of Water
There's something warm about an underwater figure twirling in beautiful garments, something paradoxical for work taking place underwater. But when you meet the artist, everything becomes clear as she radiates warmth and light. Since the early 80s, Barbara Cole has carved a unique and innovative path in the photography world. She is known for her incredible use of water to explore emotion and self-expression, as her work possesses an unmistakable style and a timeless painterly touch.
​
Growing up in Toronto, Barbara Cole was a great student but fell into depression. She ended up quitting school at 16 years old and modelling for fun. "I just wanted to take a break and think about what I could do when I got better. I modelled for a newspaper and the fashion editor took a liking to me and a year later out of the blue as I was working as a secretary somewhere, she sent me a letter offering me this job." Barbara almost stubbled unknowingly upon photography. "I was 17 and I was reading this letter with this crazy job, it read that I had to hire models and do two photoshoots per week for the newspaper and travel to cover the new fashion collections." Still considering herself as a kid, coming out of a psychiatric ward, with no journalism training, Barbara took a leap of faith for what she calls her "lucky break". A lucky break that would last ten years. She quickly moved up the ladder, from fashion writer, to editor and then editor/photographer. By the end of those 10 years, Barbara had found her calling, she knew she had to become a full-time photographer.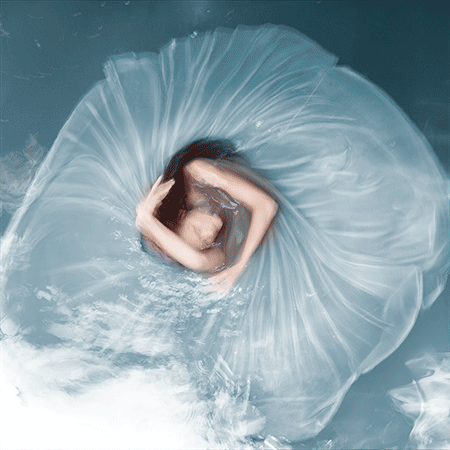 "I adored it. It was who I was. As so many people say, the minute I got the camera in my hands I could describe my inner feelings, the ideas came pouring out of me and I had some great ideas." Her close relationship with water started early on when she began by photographing models jumping off a boat. She would go to the newspaper's library to get photos of the Titanic– "which was bad taste" she admits, laughing–glue them on her photographs, hand colour the bathing suits and add some water drops on top, to finally re-photograph for the final product. "I knew it was not photography 101. I just could see the promise of photography so early on."
​
"I covered the collections, Saint Laurent and almost everybody else. I went to Italy, I worked for magazines in Toronto and in England. But I knew it wasn't who I was. Who I was, was an artist trying to interpret clothes." Fashion clearly has an important role in Cole's career. Sometimes designers would approach her to photograph their collections. She recalls, "A designer from New York once sent me these gowns that were something like 50 grand a piece. A wonderful dress has a story, a personality. I usually do a collection of clothes before the season, and then we get in the water and I have many models wearing the same dress. It takes a long time to get a great fit, to know that I found the angle, that I found the perfect person to go with that specific dress. But once the right model puts it on, it's magic." Cole's models appear weightless in much of her work. Draped in fabric, they float through the water with glimpses of their limbs apparent through Cole's lens. "One thing that's so great about being underwater, is the connection between you and the person you're shooting. You're both isolated in the same situation. I'm trying to capture the model and she is trying to give me something to capture. We're both on the same footing, trying to make a great picture, it's all about art." Barbara Cole also goes where nobody has gone before. Inspired by artists of the past, like Turner or Henrich Khun, Barbara always painted her photographs. "Another inspiration of mine that was truly influential, and was also when I understood what photography could be, was when I discovered Sarah Moon and her early pictures." She also mentions Deborah Turbeville as one of the few photographers that inspired her. Quickly, a pattern appears. All those names used photography in creative ways that are non-realistic, non-journalistic and that somehow encapsulates their personalities. It leads people when they look at their work–to want to know more about the person behind the camera. Just like you have this almost organic urge to know more about Barbara.
​
"I don't have any modern-day artist inspiration because when you start to find your own voice and do your own thing, you start exploring inside yourself, who you are and what moves you."
Barbara Cole is truly dedicated to the use of water in her art. While her work didn't begin underwater, over the past twenty years it's become a defining element of her photography. In the early days, she would use black and white pictures that she hand coloured with watercolours. Barbara would add details with tweezers, like diamond earrings, pearl necklaces or jewels on a handbag. "From that I discovered polaroid film. It went on for about 15 years for me, I used every type there was. Polaroid film is an instant process so it has something of a rough edge, a lack of grey scale tonality and creamy skin tone. In between the plastic and the paper layer was a white gel, so for years I would just push the motion around and give it a feeling of oil painting." Barbara Cole admits that she could have stuck with this process her entire life. But one day, the company went bankrupt and all photographers that used it were left high and dry. Cole realized she had to go underwater as it worked in the same way as her polaroid pieces. Continuously, she has been referred to as an inventor because of her process of creation. She sees a picture and then has to figure out a way to do it.
​
"When I was working with Polaroid in California, I had people creating certain types of lenses for me. I had about 8 Polaroid cameras and each did a different thing. Invention in that sense, and now with the "Wet Collodion" I'm working on, nobody has ever done that with these colors. It took me nine years to perfect it. This is what happens when you invent something, you're never happy and you try to nudge it a little bit closer to what you have in mind." With her latest work, Barbara Cole went full circle as she arched back to 2011 and her work on modern tintype. Her main goal is now to make people understand the beauty of it. Second to her underwater studio, her favourite place is the darkroom, where she creates Tintype images using the "Wet Collodion" technique. The otherworldly beauty is a result from merging the past tintype technique and the present digital technology in two physically separate, but overlapping, images. This results in a three-dimensional dance of light and shadow. This innovative part of her personality shines through, as she wasn't trained in this field so anything is possible for her. No one ever taught her to restrain her vision and that is what makes the beauty and uniqueness of Cole's work, as she broadens the opportunities of photography to make them virtually endless.
Words by Alexa Bouhelier-Ruelle
Photos provided by artist